What is Inbound Marketing?
Nowadays, 74% of Internet users are tired of social network ads (SurveyMonkey, 2019). This figure forces anyone to question their marketing strategy! To address this issue, there is a proven marketing alternative: inbound marketing. Unlike traditional intrusive methods, inbound marketing is the best digital strategy to develop your business over the long term. Here is an overview of this successful strategy.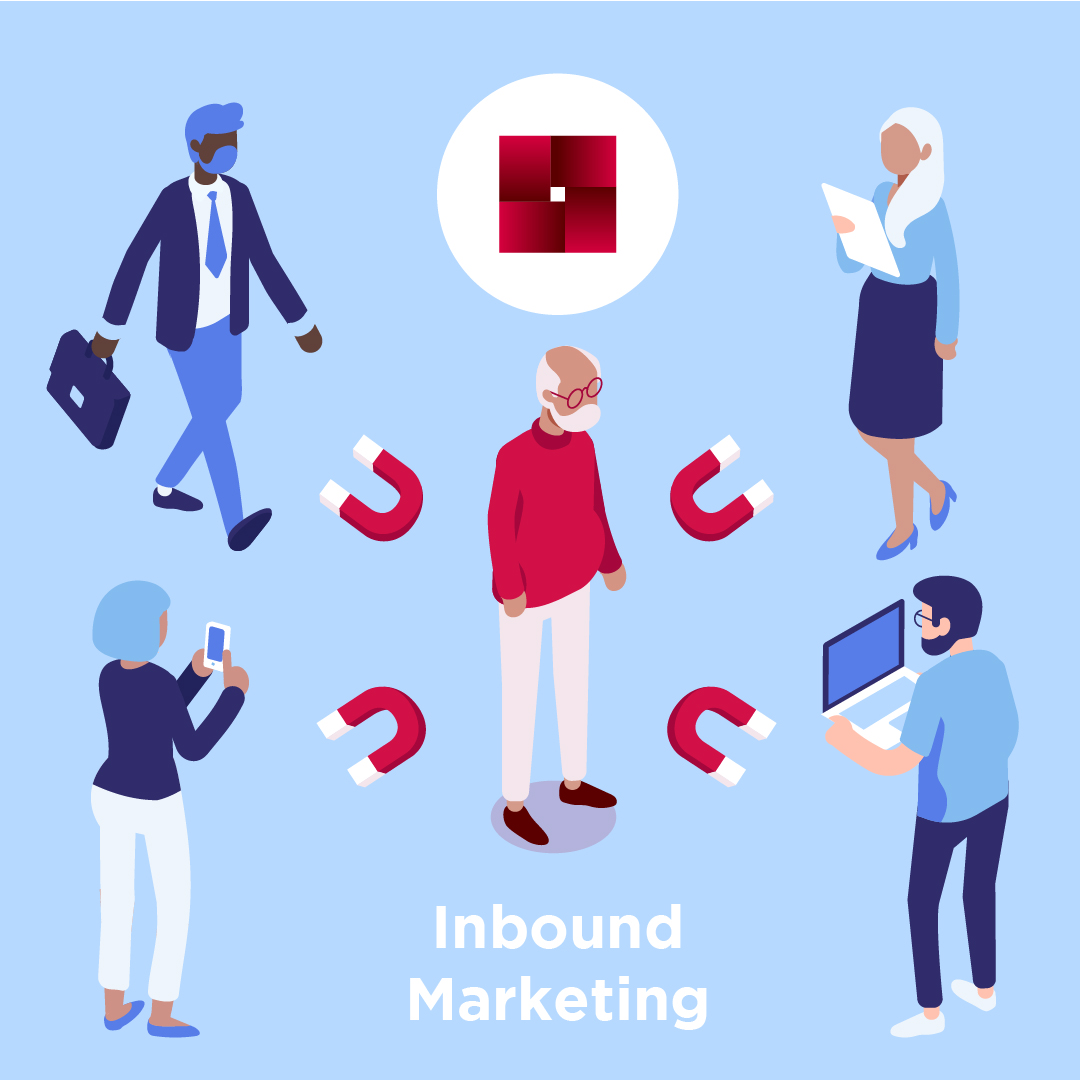 Defining inbound marketing
Inbound marketing: content, more content
Inbound marketing is based on a targeted content strategy designed to attract consumers. Unlike traditional marketing methods, you do not go looking for the customer; instead, he comes to you. It is completely different from outbound marketing, which consists of directly soliciting the customer to try to convert him: advertising, door-to-door sales, etc.
The content strategy must be adapted to your targets and offer your visitors a strong added value that will trigger interest in your brand. Once they are interested, the objective is to make them progress in the conversion funnel: turning prospects into customers, then into ambassadors of your brand. This marketing technique is called lead nurturing.
Marketing automation is another marketing process for converting leads. This term refers to the automation of marketing campaigns that are targeted according to the prospect's behavior. This automation, which concerns for example sending e-mails or SMS, saves time for the company and improves user experience.
KPIs in your inbound marketing strategy
As part of an inbound marketing strategy, several elements must be considered to evaluate your performance.
The first ones are related to your website's visibility and the traffic generated: number of visitors, traffic sources, bounce rate and conversion rate, as well as duration of visits and number of leads generated. The SEO positioning and keyword relevance must be constantly analyzed to be optimized and adapted to the results.
A well performing email marketing strategy will be determined by high opening rates and click-through rates. These data reveal the interest that your content generates in your readers and allow you to identify the subjects or themes to explore. The unsubscribe rate is also a useful performance indicator to adjust content or sending frequency.
On the social network side, there are two key factors: the engagement rate and the size of your community. With these indicators, you can evaluate the interest in your brand and the content you offer.
Methodology and concept of inbound marketing
Why use inbound marketing?
Digitalization has profoundly changed consumer habits. Buyers nowadays are self-directed; they like to compare and use all the web resources before making their decisions.
Brands must adapt and listen to the consumer, so they can best meet their needs and convince them that their product is better than competitors. While intrusive ads used to attract a lot of users, this is no longer the case. What you need to show them is your expertise. And creating content that is both relevant and interesting is what will capture your prospects' hearts.
Key steps of inbound marketing
The well-known conversion funnel in inbound marketing is divided into four stages: attract, convert, sell, and retain.
Attracting visitors
To attract visitors, you must first clearly define your buyer personas. These fictional characters represent your target customers, with certain social and psychological characteristics that will guide you in your strategic choices. To generate quality traffic, you need to put yourself in your audience's shoes. That's why this step is essential when creating relevant content.
After defining your target, you must define a keyword strategy. Besides placing you as an expert in your field, you optimize your website's referencing and gain visibility.
Converting visitors into leads
Having made all the necessary efforts to attract visitors to your website, it must now pay off. Your goal at this point is to obtain a contact method so that you can turn the visitor into a future customer.
You should attract them with a white paper or other premium content, encouraging them to subscribe to your newsletter for example. Call-to-action buttons (CTA) must be present in visible and strategic spots, to encourage the visitor to take action. And of course, the precious tool in a conversion strategy: an optimized landing page.
Selling: Leads turn into customers
Your lead base is now ready to become customers. The objective is to provide personalized content and guide them through the buying process.
To determine which leads have the best chance of converting into customers, there are various techniques, one of which is based on a scoring system: lead scoring. For each action, the lead will be given a certain number of points. These actions can be downloading a white paper or opening an article.
It is useful to segment your leads according to relevant criteria, so that you can offer them adapted content. Targeted e-mailing also allows you to guide the prospect in his buyer's journey, and to lead him to consider your product as the ideal solution to his problems.
Retaining customers
The last step is to retain your new customers, and make sure they become brand ambassadors. Acquiring new customers is more expensive than keeping existing ones, so loyalty is essential in an inbound marketing strategy.
Social networks are a great opportunity to create a close relationship with your customers, and to build a real community. Through quality content and regular presence, you maintain an ongoing relationship with your customers.
Inbound marketing: key figures for your 2021 strategy
Inbound marketing is the right strategy to adopt in 2021. In the digital age, consumers need only a few seconds to determine if your product is right for them. They have choices, and it is your job to convince them.
Content marketing, an integral part of inbound marketing, is actively used by 82% of industry professionals according to the latest marketing statistics. For 2021, 28% of companies want to invest in content creation, 17% more than the previous year.
Marketers have understood the growing interest in web content and the importance of inbound marketing in their digital strategy. With 84% of Internet users looking for entertaining content from brands, you now know what your prospects want from you!