All you need to know about Link Juice
A mouth-watering and tasty word for all SEO experts: the Link Juice. So beneficial to your SEO health, you better understand how it works! Having an effective netlinking strategy is a factor for success on the web. And this strategy involves quality links, both external and internal, which transfer a piece of PageRank into the website they link to. Read this article to learn more about this SEO beverage.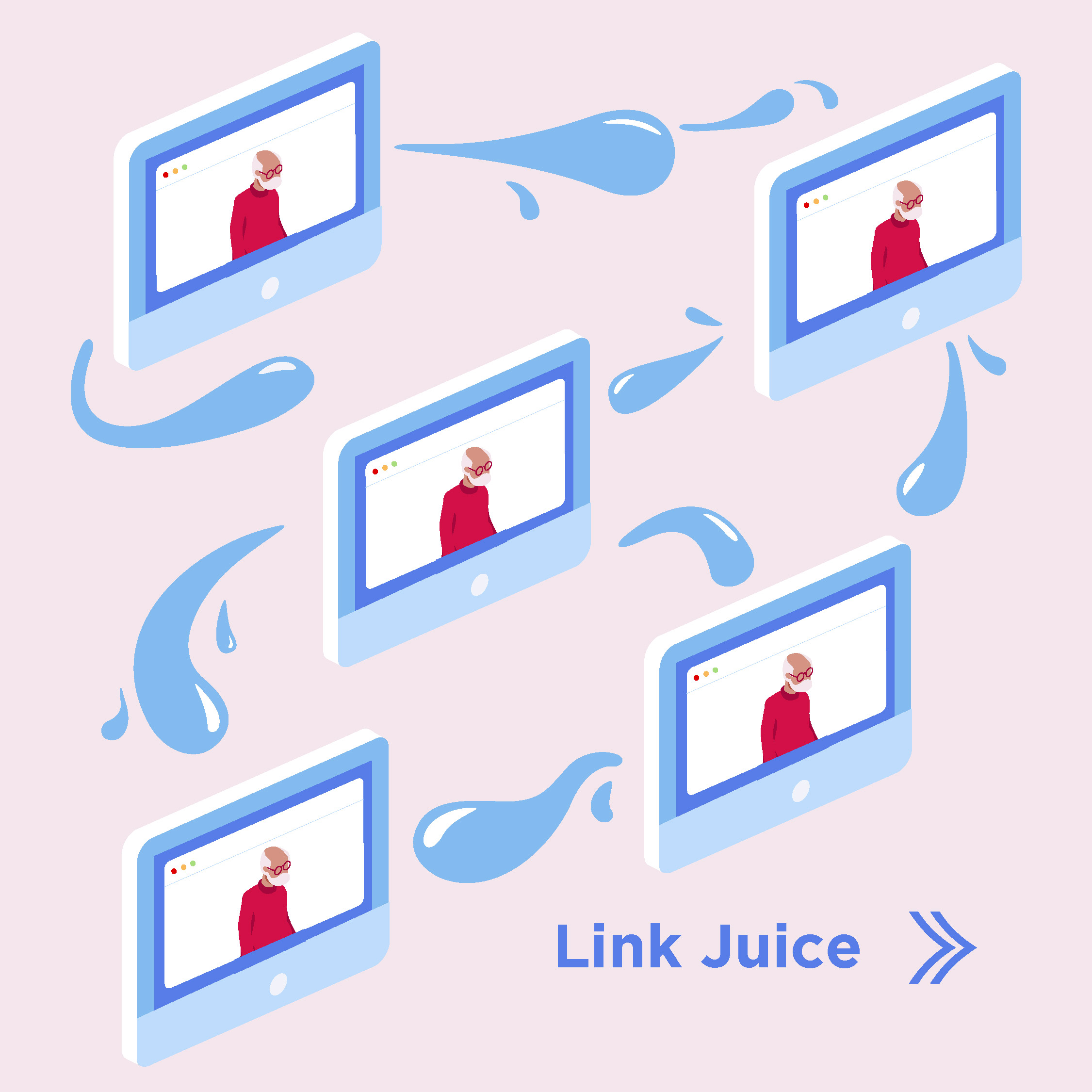 September 8, 2021
lsandil
Link Juice Definition
SEO juice, or Link Juice, refers to the benefits gained from a backlink on the site to which it refers. When this backlink comes from an authority site, the related web page benefits from this authority and increases its chances of being ranked higher in Google search pages.
Techniques used for netlinking strategy are intended to get the maximum amount of quality SEO juice and to assess the performance achieved by these actions. This applies not only to external links from your website, but also to internal links – i.e., links to other pages on the same website.
Understanding External Link Juice
External linking refers to links from external pages pointing to your website: these are called backlinks. By obtaining backlinks from high authority pages, your site gains value from a Google perspective.
This means that it gains visibility and authority. For search engine spiders, links are the main path to explore the web. Netlinking must therefore remain a priority in your SEO strategy.
Understanding Internal Link Juice
Based on the same concept as external linking, internal linking, also known as "internal mesh", consists of inserting links that connect two pages of the same website. This internal linking defines the site's architecture, i.e., the way in which its pages are organized, and improves the depth of the website.
These internal links allow Google to index and understand all the pages on a website. When you insert a link to another page on your site, it benefits from the authority of the source page. Thus, internal linking allows you to spread the right SEO juice to pages with low traffic.
Key elements of Link Juice
The quality of a "link juice" depends on several criteria, and many factors must be considered in order to properly evaluate the benefit obtained.
Link Juice: Google's trust point
When it comes to search engines, backlinks are considered as votes of recommendation. They are one of the most important factors in terms of referencing and positioning of your website.
This is because Google discovers and analyses the relevance of web pages according to many criteria. If pages that have already earned its trust point to your site, then you benefit from some of the popularity of that page. This is known as Link Juice.
But when you work on your netlinking, you should also consider the number of outbound links from the same page: the more outbound links there are, the less concentrated the juice will be, and the more the benefit will be weakened.
Link Juice transmission: how does it work?
Let's take two web pages as an example: page A and page B. If these two pages have similar SEO metrics and no links to page A, but an external link to page B, then page B will have a higher ranking due to link juice.
But things get more complicated when several external links point to these web pages. Naturally, the page that receives the most SEO juice will be the one to which the most external links point. However, the authority of the pages to which these links point will also be relevant.
Link Juice dilution: the more concentrated, the better!
When transmitting the link juice, the benefits are greater if the juice is concentrated. But what exactly are we talking about?
Consider a web page with an outbound link to your site. In this way, you benefit from 100% of the popularity of this page, i.e., purely concentrated link juice. If, on the other hand, this same web page has two outbound links, one of which is to your site, then you get 50% of its popularity.
The same logic applies each time, dividing the benefit received by the number of outbound links. However, it is also possible not to transfer a Link Juice to an external link.
The « dofollow » and « nofollow »
When search engine robots crawl a website, it is possible to give them instructions. Among them, the "nofollow" indicates not to follow a link quoted on the web page and not to transmit a Link Juice to it.
In some cases, it can be very useful to use "nofollow" links in order not to negatively impact your content: to avoid spam and social networks for example, or not to bring notoriety to a competitor site.
In contrast, "dofollow" gives Google the indication to follow outbound links. It is important to note that, by default, all links without a specific attribute are already configured to be followed.
The key elements of a quality Link Juice?
Every web page has its own potential juice, which can bring a nice dose of vitamins to your SEO. So, remember the following to optimise this Link Juice to the maximum:
Consider the number of links on each page,
Ensure that the link juice is distributed quantitatively and qualitatively on the different pages of your website,
Use "nofollow" when a link is not relevant to your SEO,
Apply these same analyses to internal and external links.
To conclude this multivitamin article, netlinking remains one of the best tools in natural referencing. By effectively controlling the "referencing juice" that comes from these links, you will very quickly reach the top spot in Google!